You are reading:
Meet (Y)our Bank Partners and Choose the Right One
- Start-Up Support -
Meet (Y)our Bank Partners and Choose the Right One
Published: 28 Oct 2021
It's incredibly crucial to choose the bank that fits your venture in HK best, so your business can enjoy the superb and secured banking system of HK. If you are about to open a corporate bank account, this article is for you to get prepared so you can make things right and put your corporate bank account to work ASAP.
BRIDGES Bank Partners
Our experience of working with numerous leading banks have got us honourable recognitions and partnership awards throughout the years. We're committed to strengthening the relationships with different partners for the utmost benefit and convenience to our clients. Some of our partners could even meet the clients at BRIDGES to save our clients' time. Take a look at the list of our dependable bank partners.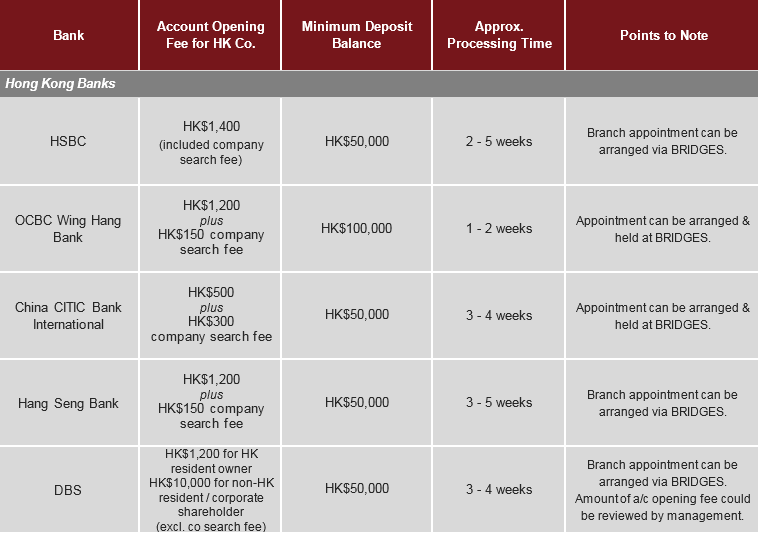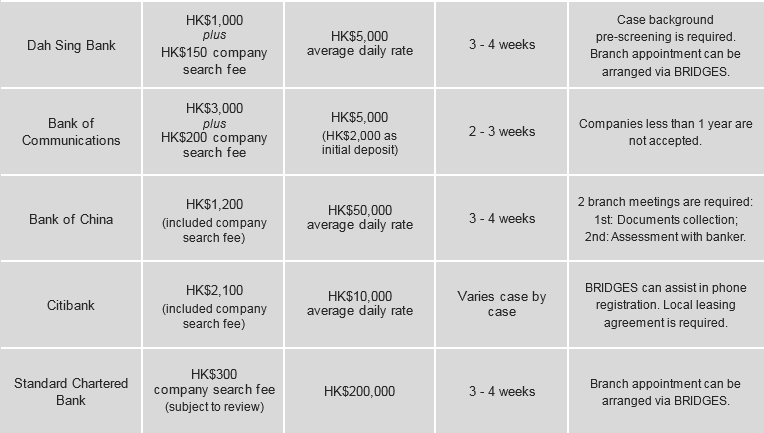 *Due to the travel restrictions of COVID-19 around the world, HSBC allows clients to sign the paperwork at its overseas branches; OCBC Wing Hang allows clients to sign the paperwork at its branches in China; DBS HK also offers remote account opening if the client can sign the paperwork with the witness of the Notary, provide Notarisation of passport and address proof.
Our offshore bank partners include BlueOrange powered by Baltikums Bank, ABC Banking Corporation, Meinl Bank AG, CIM Bank, Euro Pacific Bank, Rietumu Banka, etc.
We also work closely with a few renowned online finance platforms including Currenxie, Airwallex, Statrys. To learn more, go check out "Bank Account Alternatives to Run Business".

What to Prepare for the Appointment?
To help you get prepared for the appointments after our bookings with banks are confirmed, we will provide a tailored document list for you to present your business with solid proof to the bankers. Our consultant will also review your documents and provide practical suggestions before the meeting.
Here's a general document list:
> Certificate of Incorporation
> Memorandum and Articles of Association / Articles of Association
> Business Registration Certificate
> HKID Card / Passport of Principles or Directors
> Residential Proof of Principles or Directors (e.g. personal bank statement, driving license or public utility bill issued within the past 3 months)
> Business Proof (e.g. trading invoice, bill of lading, payment record, contract / agreement)
> Business Plan (e.g. what kind of business nature, what is the source of fund, etc.)
> Company Chop
*The above is the required documents applied to major circumstances, for some cases, the bank might need additional documents.
If you have any questions regarding the company incorporation or opening a bank account in HK, send us an email at info@bridges.hk or call +852 2159 9666. We will ensure your start-up needs are being well taken care of whenever and wherever.