You are reading:
Which HK or Offshore Bank to Pick? Check out Our Handy List!
- Start-Up Support -
Which HK or Offshore Bank to Pick? Check out Our Handy List!
Published: 26 Jul 2017
When starting up your venture in HK, choosing the right bank could be an aspect that need more of your attention, so as to smoothly enjoy the superb and secured banking system of HK as one of the largest international financial centres.
This part is especially vital for foreign entrepreneurs - sometimes they just have no clues how their application could be made better and there is just no one more experienced, more learned, or more advisable to offer the help that they really need. If you are one of them who plan to establish your business in here, this article is the right reading material for you to start getting well prepared and shorten the processing time.
Which Banks We're Joining Hands with?
One of the valuable assets of us is our team's over 10 years of experience working with the leading banks in the industry for serving our start-up clients. Honorable recognitions and partnership awards were received throughout the years (please find award photos here to share our joy) and it's always our commitment to strengthen the fruitful relationship with different partners for the sake of bringing the utmost benefits and convenience to our clients at the end. Some of our partners could even meet the clients at BRIDGES Centre to save our clients' time and thus they don't need to queue up at the branch for unlimited wait. Let's take a look at the list we usually make appointments for our clients:-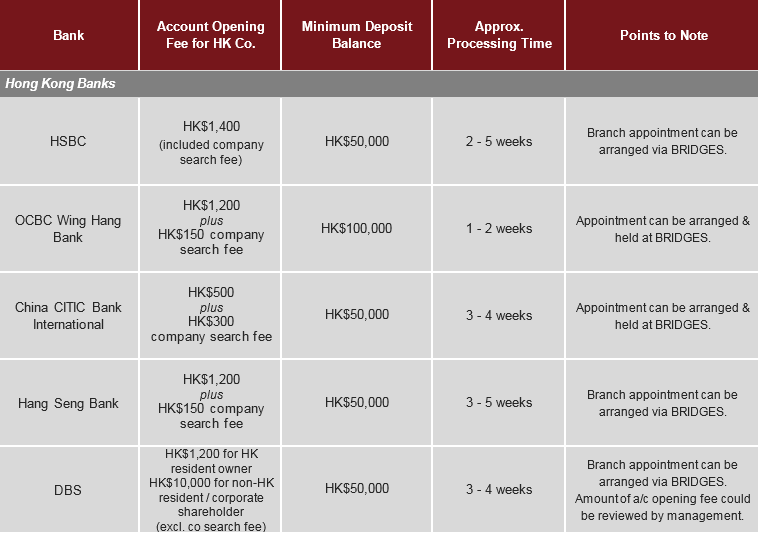 Here're more bank options BRIDGES works with...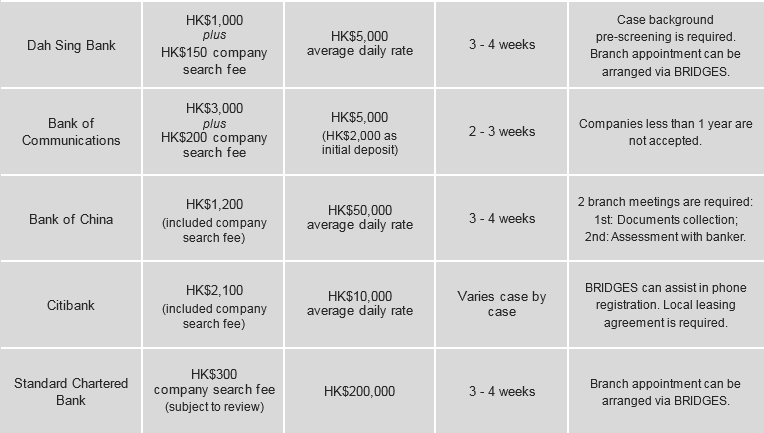 Meanwhile, popular offshore bank options include: BlueOrange powered by Baltikums Bank, CIM Bank, Euro Pacific Bank, Rietumu Banka, etc.
What to Prepare for the Appointment?
To help you get well prepared for the appointments after our bookings with banks are confirmed, we will provide a tailored document list for you to read and you can present your business with solid proofs to the bankers in the meeting. Before the meetup, a review on your documents and practical suggestions will be provided by our consultant to strengthen your success rate since we know how huge the difference could be for having a well preparation that matches up with latest bank compliance.
Here's a general document list that might give you an idea on the preparation work:-
> Certificate of Incorporation
> Memorandum and Articles of Association / Articles of Association
> Business Registration Certificate
> HKID Card / Passport of Principles or Directors
> Residential Proof of Principles or Directors (e.g. personal bank statement, driving license or public utility bill issued within the past 3 months)
> Business Proof (e.g. trading invoice, bill of lading, payment record, contract / agreement)
> Business Plan (e.g. what kind of business nature, what is the source of fund, etc.)
> Company Chop
The above is the required documents applied to major circumstances, for some cases the bank might need some additional documents. For this, many of our clients might not know before they came to us, and it is the time our consultant will help to review the client's case and provide suitable advice to speed up the process. For example, based on your business nature / passport country / residence country / buyer & supplier background, etc., we will suggest the most suitable bank(s) for your business as we will know which bank could be the best fit, like some business natures could be more favourable to certain banks. Or how you can enhance your prepared documents to fit the banks' particular requirements that they will update our consultants from time to time. Not to mention our team will help you pre-arrange the bank meetings so you can fly to HK once only to meet the bankers and pick up your company kit on the same day.
During our years of services, BRIDGES has served many different types of clients coming from all over the world - we know their needs and we act as a 'bridge' to connect the suitable clients with the suitable banks via our expertise, and to ensure the process runs as smooth as possible. Within this, the friendly and close working relationship with different parties proves effective, no matter it is local, international or global-scale bank.
If you are still thinking whether you should go ahead for the incorporation and bank account opening in HK, why not talk to one of our consultants today? Simply drop us a message to start chatting with us or send us an email at info@bridges.hk to get our prompt help. We will ensure your start-up needs are being well taken care of whenever and wherever.